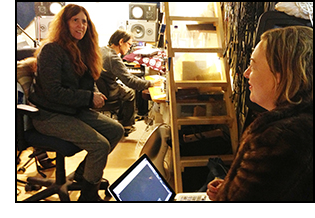 A few summers ago, a news producer colleague of mine volunteered at the International Rescue Committee's Refugee Youth Summer Academy, regaling me with stories of how 120 kids speaking 26 languages from the worlds hot spots – Iraq, Egypt, West Africa, Tibet, Burma and Bhutan – were transformed from tongue-tied newcomers into confident, savvy New Yorkers over the course of the six week program.

A second-generation New Yorker whose grandparents fled pogroms, I am profoundly moved by the stories of today's refugees. In meeting and working with these remarkable youths, I connect to the intrepid spirit of my grandparents' generation. In Helen, a 16-year-old Burmese refugee, I find parallels to the experience of my grandmother who made her way to America at age 14. While filming Helen at the summer academy, I was entranced as she effortlessly translated from English to Burmese to Chin to Thai to Nepali and recalled my Grandma Rose who juggled conversations in Yiddish, Russian, German, Polish, and English with similar grace.

In Tek Nath's story, I related to the struggle of my own father, whose old world parents came to rely on their "American" child. In his first six months in America, Tek Nath leased the family apartment, translated for the surgeons operating on his brother's heart, applied for the family's green cards, opened bank accounts, and tutored both parents and younger siblings in English – and all the while maintaining straight As in his school work. And this from a seventeen year old who had spent his entire life in a rural Nepalese refugee camp where he had virtually no English instruction.

I also had the great pleasure of meeting George from Liberia who lost both parents at a very early age and was raised in Staten Island where he was confronted with the brutality of gang violence but has still emerged as a student mentor and future leader. There are also the siblings who faced long separations from their families: Rigzin and Tashi from Tibet who are reunited with their parents in Brooklyn after eight years spent at the Dalai Lama's refugee school in India and Ida and Jennifer from Togo who were raised by their aunt and encountered an unforeseen family tragedy upon their arrival in the Bronx.

Their stories ignited my imagination - and my journalistic instincts and put a face on global problems of persecution and displacement that impact over 70 million people. A documentary about the kids of the IRC Refugee Youth Summer Academy would show one small school confronting some of the most intractable problems of the world. I felt compelled to make this documentary happen.

My first lucky break was teaming up with my good friend, the award-winning filmmaker Peter Miller, who signed on as the cinematographer as well as co-director, and his associate producer, Caroline Berler, who became our sound recordist, second camera operator and kid wrangler. With Peter and Caroline on board, we convinced the summer academy directors to grant us unrestricted access to the school and its diverse students. For the first and only time, the IRC opened it doors to a documentary crew, trusting us to tell the story we wanted, without any editorial involvement or restrictions on our work.

For six weeks, we filmed with a rotating, skeletal volunteer crew and recorded over 100 hours of raw footage. We then filmed at our subjects' homes and in their communities, and returned to our protagonists to have them tell their often harrowing back stories in hand-drawn pictures, which we gave to the acclaimed animator Brian O'Connell to put in motion. Liz Swados, the legendary composer (who is the subject of another film that Peter and I co-directed, Sosua: Make a Better World recorded an original score in the basement of the tiny Santa's workshop style studio of her musician friend, Yukio Tsuji. Our multi-faceted, editor Aaron Vega wove the many stories together into a cogent, short film as his last project (for now) before winning a seat as American state legislator where he now serves in the Massachusetts House of Representatives.

While it most obviously helps individual children, the Refugee Summer Youth Academy also – in terms of the bigger picture – takes on the world, challenging us all, even in our jaded and broken times, to reconsider the promise of America that first called to our forbears and continues to beckon to generations of new Americans. Today, looking at the heartbreaking reports of the refugee children around the world, the stories we capture in our film feel all the more urgent.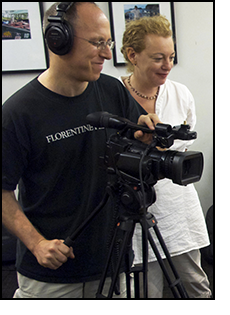 Refugee Kids is the second film I've completed with my good friend Renée Silverman, following our teen Holocaust theater story, Sosua: Make a Better World. It's something of a miracle that we were able to shoot, edit, and complete Refugee Kids (for what might be the lunch budget of normal film), but we were blessed with generous and talented friends.

Caroline Berler, associate producer on three of my recent films, got caught up in the story – and the kids' lives – as Renée and I had. Between Caroline's camera (and skill in shooting and recording cinema verité), my sound gear, and Aaron Vega's editing skills (this was our fourth film together), we shot and edited a film fueled by passion and love. Brian O'Connell, the gifted animator who had done the graphics on my recent documentary feature, AKA Doc Pomus, fell in love with the refugee kids he met, and offered his amazing skills to bring their drawings – and their back stories – to life through animation.

The spirit of George, Helen, Rigzun, Tashi, Ida, Jennifer, and the whole summer school community inspired this project and we now have a finished film that is moving audiences and, we hope, will inspire reflection and action.

We are truly grateful that the IRC opened its doors to us to tell this story, which I believe presents a shining example of how we can rise to our highest promise as a nation of immigrants.
About the Film | Directors' Notes | Biographies | Credits